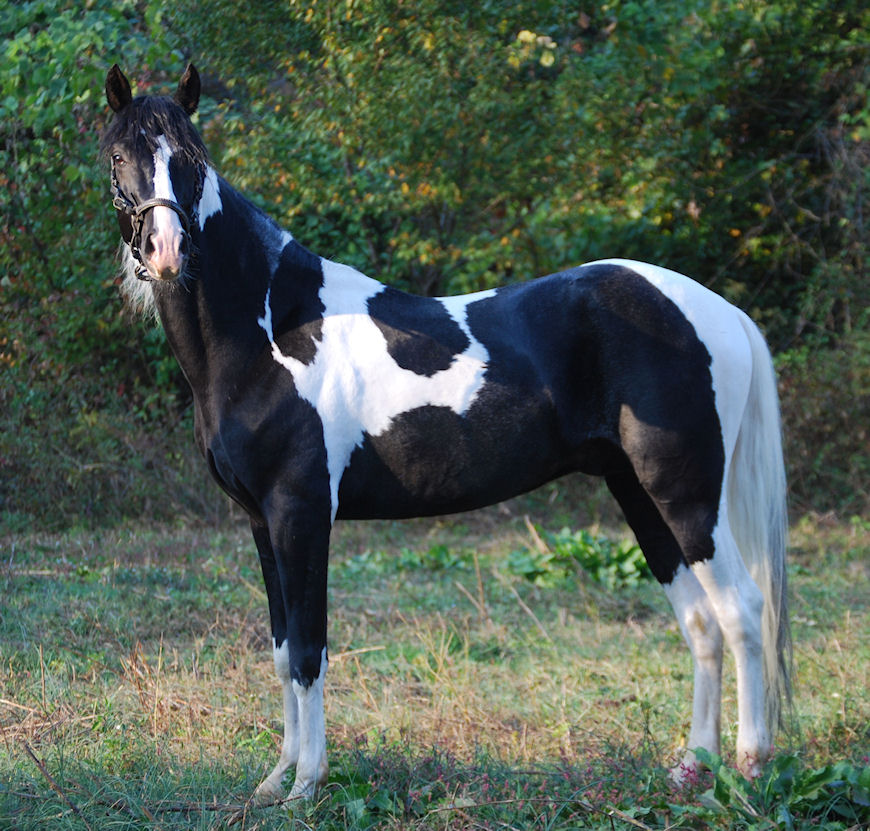 Tucson is a culmination of years of planned breeding; he brings not only a consistent accurate gait, beauty, size, and brio to the breeding shed.  In addition to all of those traits he brings the genetics of homozygous tobiano and homozygous black.  This means that when bred to black mares or chestnut mares that do not carry the agouti gene he will produce black and white tobiano pinto offspring.100% of the time

This spectacular young horse brings together the attributes that breeders of quality and colorful Paso Finos are seeking.  Those wanting to produce the recreational riding Paso Fino as well as those breeding for the show ring can find what they are looking for with Tucson.

His ground covering and rapid pleasure gait is very accurate, gaiting at liberty and in hand with ease.

His sire, Regalo de Marichalo, is a 2X NC pleasure stallion (Reserve NC & 3rd NC) and has sired numerous national level horses including multi NC Bolero Bravo.  His dam is one of our top brood mares and was successful in bella forma in the Canadian National Gaited horse shows (no PFHA events in western Canada)

Tucson's tobiano parentage reads like a who's who of imported pinto Paso Finos and brings these lines up close in his pedigree.  These bloodlines cross well with other pinto lines that can be found in high concentration, giving breeders an opportunity to refresh pedigrees without having to cross out to non-pinto horses.

Tucson's pinto pattern and deep rich black coat are simply the added bonus of color on an already very nice colt.

If you are serious about Pinto Paso Finos - and tobiano genetics this colt is one you need to look at.

LIVE PINTO FOAL guarantee!!

If you would like a live black and white pinto foal guarantee, simply provide us with a "non-agouti" certifcate on your black or chestnut mare from a lab that performs genetic color testing. 

Tucson stands at over 14.2hh









     Marichal
                                    Marichalo Royal**

                                                                 Yoconda

                  Regalo de Marichalo

                                                                 Apache (Pepe)

                                    Takka

                                                                 Santa

  Tucson TM

                                                                 Bold Star

                                     Pioneer

                                                                 Conastita de Mayo

                   Arizona TM

                                                                 Celebrante Regalo SL

                                      Pais Montanas Allesandra

                                                                 Pais Montanas Mimosa

Photo Gallery

click on photos to open viewer.

click on prev or next to see all

Download Breeding Contract

Color legend

red = National Champion

orange = Top 10 Sire or Dam

blue = Foundation Sire

green = Fuera de Concurso

download dna testing form